Houston Air Duct Cleaning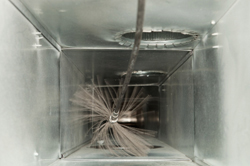 We want to make sure the quality of the air you and your family breath in is clean. Often the most overlooked household and commercial services are the cleaning of your air ducts, performing a regular chimney sweep and cleaning your dryer vents. When air vents aren't maintained and kept clean build up of dust particles, pollen, mold and other debris contaminate your vents and are released through the air you breathe.
When dryer vents and chimney's aren't cleaned and maintained, lint and Creosote buildup and pose a fire hazard. That's why having our professionals come to service your air ducts, dryer vents, and performing chimney sweeps and mold remediation on a consistent basis is so important.
If you care about your family, then you care about the air quality of your home. It's important that the air your family breathes is fresh, health problems can arise if you are constantly breathing low quality indoor air. By industry standards, you should inspect your air ducts system every 2 to 3 years, and you should clean them every 4 to 5 years at the latest. You should be aware of the air quality of what your family is breathing so call us today!
Air Duct Cleaning Services Houston
Why should I get my air ducts cleaned you may ask? Well this is a very good question. Imagine what your carpet would look like if you never vacuumed it. Now imagine breathing in all that dust and gunk on a regular basis. This is what many of us do every day. The air in our duct system of our home is often the source for mold, mildew, bacteria, and fungus which can cause serious health problems. We can help with getting your air ducts cleaned so that you and your family do not have to breathe in anything but fresh clean air from your home.
Duct Cleaning is a process in which a specialized vacuum is attached to the indoor unit causing a negative pressure on ducting system. Then a power rod cleaning system is inserted into each vent. This power rod cleans and blows dust and debris back towards and into the vacuum system. During the cleaning process the vacuum stays attached with negative pressure ensuring that all of the dust is sucked into the vacuum system and out of your ducts.
Our unique carpet cleaning services protect the investment you've made in your home. You can't always control what happens to your carpet, but you can give yourself the best chance of success. That's where our carpet cleaning service can help. We are a full service home care provider, but carpet cleaning is where we began and is one of the things we do best. We have what it takes to assist you all year with our friendly service, green cleaning solution, speedy dry time, and our famous cleaning technicians.
We know rugs and carpets and furniture and how to clean them. Every rug or carpet or piece of furniture is one of a kind and we understand and appreciate the individuality of each piece. Each rug is woven and tied to create a beautiful heirloom piece created from generations of knowledge and culturalheritage. The rugs are usually crafted with organic dyes that are specific to each culture and region. When cleaning a carpet or upholstery we take great pride and care in preserving the integrity of the things that you own.
Air Duct Cleaning Service Areas
Our technicians are trained to care for all types of fabrics and investment quality wool and silk rugs, carpet and air ducts. You may notice a smell on a rainy or humid day. If this happens just call us up and we will get the issue solved quickly. Let us come in and prevent these issues and make sure that all your furniture remains clean and your family remains healthy. Call us today and we can provide you with more information about what we can do for you and the quality and cleanliness of your home!